Earned Value Management
Join Our Team:
Immediate needs...
Our company is looking for Project Controls Professionals for upcoming opportunities in the southeast area. We are looking for experienced professionals with the following skill sets:
Scheduling
Cost Engineering
Cost Control
Earned Value Management
Systems Implementation
Project / Program Management
Primavera® Project Planner (P3®)
Primavera® (P6®)
Primavera® Cost Manager
If you are qualified and interested in joining our team, please email your resume to jobs@ipsyes.com.
Earned Value Management Systems
"We tell you the truth, when no one else will.  Even if you don't like it." - Lou Ann Hanvey
On scope, on time, and on budget, these are the objectives that your project team must keep at the forefront in order to complete a successful project.  The IPS team has extensive hands on experience with EVM processes.  We have prepared Earned Value Management Systems for new projects and we have been called in to help clients respond to EVMS audits and corrective actions for already existing systems.  Our team members have worked in the trenches as Project Controls and Project Managers, successfully executing earned value management system processes.
IPS team members work with clients and Earned Value audit teams to help insure a project meets the ANSI 748 standard for Earned Value.  IPS is available for internal EVMS surveillances in order for your organization to assess and maintain Earned Value proficiency.  We work closely with industry experts and continually improve our knowledge in project controls by means of courses, seminars, and national meetings.  This way you can be assured that the information that IPS presents is timely, relevant, and accurate.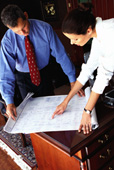 Earned Value Management System services offered by IPS…
EVMS Validation Preparation
Cost and Schedule Integration
Compliance Review
Independent Surveillance
Corrective Action Implementation
Systems Processes and Descriptions
Project Controls Procedures
Earned Value Training
Control Account Manager (CAM) Training